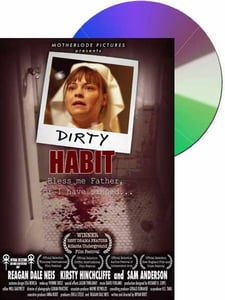 $

15.00
90min.
Dirty Habit
A crack-addicted prostitute and a nun get stuck on an elevator. One is going to, one is coming from, a meeting with a killer.
In a seedy hotel, battered prostitute Leslie (Kirsty Hinchcliffe) flees the scene of a crime only to get trapped on the elevator with young Sister Amelia (Reagan Dale Neis). When no one responds to their cries for help, they reluctantly turn to each other. Leslie starts smoking crack and goes from standoffish, to giddy, to ferociously hostile at the drop of a hat. The unlucky sister learns more than she wants about the violent crime Leslie has just perpetrated. Tensions mount as Leslie pries into Sister Amelia's private affairs and they discover a shared secret that binds them together in a macabre and surreal plot involving a talking handbag and a Catholic bishop (Sam Anderson).
It's a dark, hallucinatory ride with powerful performances and supernatural thrills that goes straight to the heart of a girl on her way to Hell.